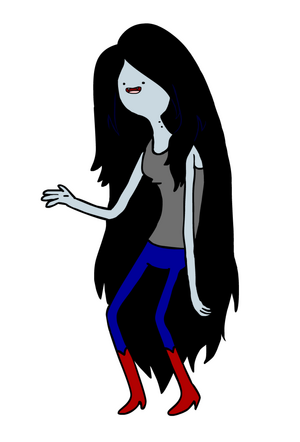 Marceline The Vampier Queen Is A vampire that befriended Finn The Human and Jake The Dog. She is 1000 Years Old
(Although she looks 16-20)
Appearence
She has long black hair.Her outfits vary. She has two bite marks.
Relationships
Finn: Finn Is Her Friend They First Met In Evicted.
Jake: Same As Finn.
Marcelines Dad: She Does Love Him But Is Angry At Him For Eating Her Frys.
Princess Bubblegum: Although They Seem To Be Enemeys She Was Touched When PB Revealed She Kept The Shirt
Personality
She Is Nice *Although Seems Evil*.